The hiring process can be complex. The candidate's qualifications, experience and technical knowledge all need to be assessed. Then there's the human side. Will they fit in with the existing culture and values? Do they have the personality and behavioural style necessary to succeed in the role?
An individual's characteristics, attitudes and patterns of behaviour are some of the key ingredients that determine how well they perform, and the importance of identifying these at the recruitment stage has long been acknowledged. As Virgin CEO Richard Branson once put it, "Most skills can be learned, but it is difficult to train people on their personality."
Recruitment should start with identifying what the ideal candidate looks like. Do you need someone able to make quick decisions? Or does the job require strong attention to detail? Personality profiling helps indicate those who may be better suited to a role. For instance, people with high Affection tend to thrive in roles where they are able to help others and contribute to the community.
Of course, personality isn't the only driver of behaviour and job performance. But at the very least, understanding a candidate's personality traits serves as a basis for getting to know them better. It helps steer discussions at the interview stage, allowing you to get a deeper insight into their strengths, risk factors and character, and to investigate their adaptive behaviours.
With all this in mind, the Facet5 Audition tool makes finding the right person for the job - and the company -even easier.
How Facet5 Audition can help
Facet5 Audition works as a framework for helping you find the best candidate for the job and your company.
Audition is a role definition survey, which when combined with an individual Facet5 profile, produces a role/person 'fit' template as well as a corresponding behaviour-based event interview guide.
Specifically, Audition can help you:
Define what you are looking for in your ideal candidate
Create focused job adverts
Compare candidates objectively
Reduce the workload when screening candidates
Prepare effective interviews and improve interview quality
Recruit the best fit candidate for the role and your company
Link recruitment to other critical people functions through other Facet5 modules such as TeamScape
Research shows that when used consistently within an organisation, Audition can double the proportion of successful hires.
How it works
1. Create the template
First, you use Audition to create a template for your ideal candidate. This is your opportunity to consider the types of personality traits that would be ideal for success in the role.
For example, when recruiting for a Project Manager role in a high-pressure environment you will need someone who can make quick decisions on a daily basis and see projects through. So you may need someone with high Will and high Control. Or if recruiting for someone to join your flailing Sales team, you might look for someone with high Energy who can bring some new life and vibrancy into the team to improve morale.
2. Match the candidate
Once you have a template for your ideal candidate, during the recruitment process each candidate is invited to complete the online Audition profile. Audition will then compare and rank each candidate's personality profile against your role template, identifying the best fit candidates.
The template provides a deeper look into an individual's personality beyond the factors of Facet5. Here are some of the elements the ideal role profile might cover:
Goal focus
Assertiveness
Cooperation
Enthusiasm
Sociability
Task orientation
Realism
Scepticism
Structure
Confidence
Audition reports on the 'fit' of each candidate against the template and highlights the areas of strength and vulnerability.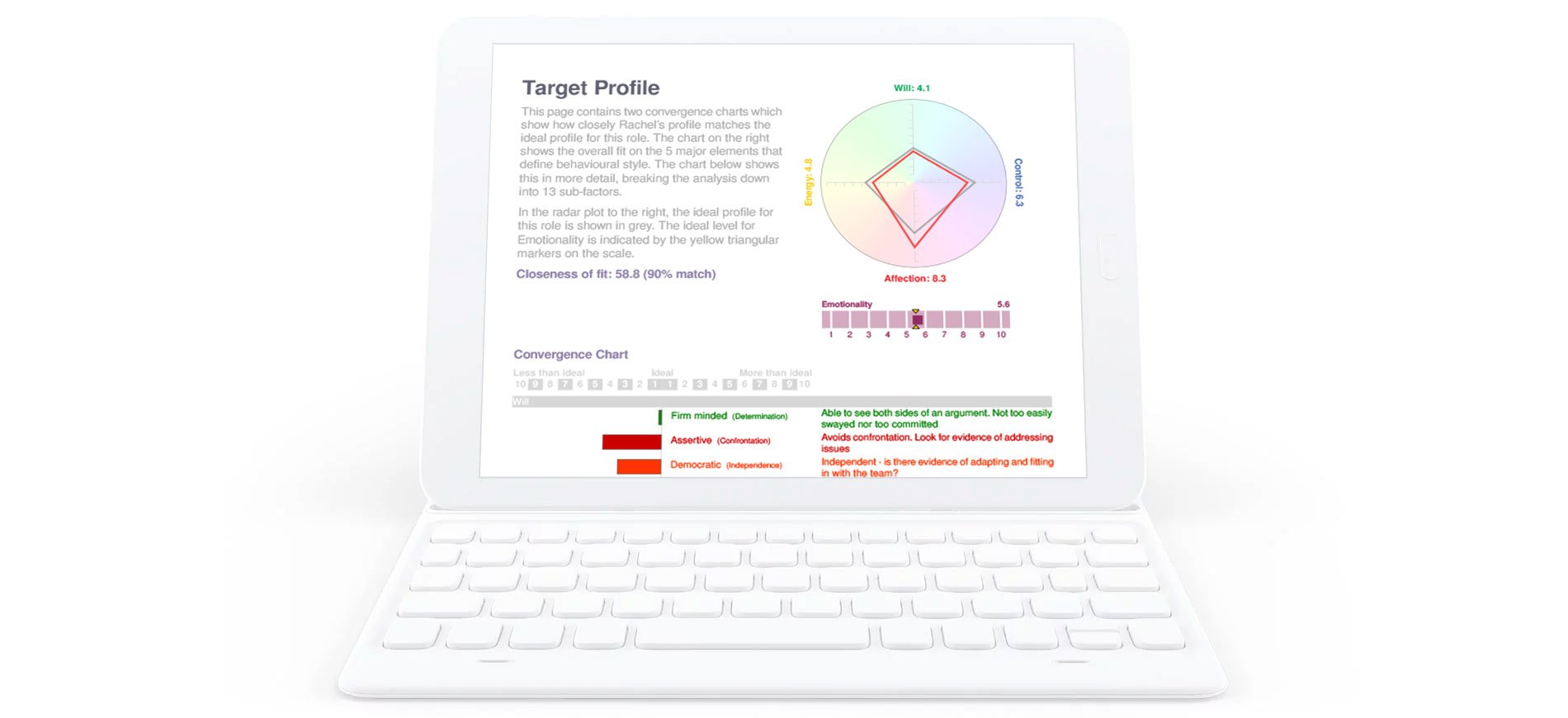 3. Prepare the interview
The Audition report also generates interview questions tailored to each candidate so that you can explore specific behaviours and competencies.
The purpose of Audition isn't to help you write off the candidates that don't 'fit' the template. While people can't change their natural preferences, they can learn how to adapt their behaviour to do their job well. For example, just because a person is low Control doesn't mean they haven't learned to take a more considered approach to their work. Audition helps you to become aware of any of these potential risks and the interview guide provides an opportunity to explore them with the candidate.
The Facet5 Audition tool helps you to determine the ideal candidate for a role and your business and find someone that fits that ideal. While using personality or behavioural tests as a recruitment tool can sometimes be seen as too invasive, when used in a fair and objective way, there is much to be said for getting to know candidates better before you bring them into your organisation.