I often try to imagine exactly what my father must have felt the night his parents woke him and asked him to get dressed as quickly as possible so they could take him immediately to the train station in Berlin. The year was 1939, and after he was kicked out of his public school and so many local businesses were burned and looted, his parents decided to entrust him with an organization based in France to hide him in the countryside outside of Paris to ensure his health and safety. For three years, he was moved and hidden from the Nazis constantly experiencing daily fear, hunger, and uncertainty about his own fate and those of his parents (his mother passed away from cancer and his dad survived the war) and extended family--all who perished in concentration camps. Luckily, he escaped from France and was able to immigrate to the United States where he was sent to an orphanage in San Francisco to live the remainder of his teenage years learning another language, catching up on school, and starting his life over in a new and unfamiliar country.
I am sure my father's story has been the impetus for my own research and intellectual curiosity about how we all cope with life's difficulties and challenges. In fact, I have spent over 20 years trying to understand why some people who experience work and life challenge and remain physically and psychologically healthy, and others tend to suffer negative consequences in well-being immediately or following such circumstances. During our lifetime, most people are confronted with any number of challenging life events and circumstances and not everyone reacts nor copes with these exactly in the same way.
The ability to bounce back from life adversity and challenge is popularly considered to be the most typical trajectory following exposure to potentially traumatic events such as the recent COVID-19 pandemic, being made redundant at work, being diagnosed with a serious illness, the loss of a loved, or separated from one's parents. Resilience is typically defined as stable healthy levels of well-being, and the absence of negative outcomes during or following life challenges.
Prior research has popularized the notion that resilience is the most common and modal response to people who have experienced traumas such as Hong Kong residents affected by the SARS virus, the 9/11 terrorist attacks in the U.S., or people living under chronic stress due to lower socioeconomic status and conditions. However, recent research suggests that there are at least three identifiable trajectories following life challenges and depending on the person, intensity, duration, and situation, resilience might actually be the least common. In general, research suggests that a rebound towards well-being does generally occur following being made redundant, going through a marital divorce, or experiencing a spouse's death— but commonly short of a person's initial levels.
The Three Common Trajectories Following Adversity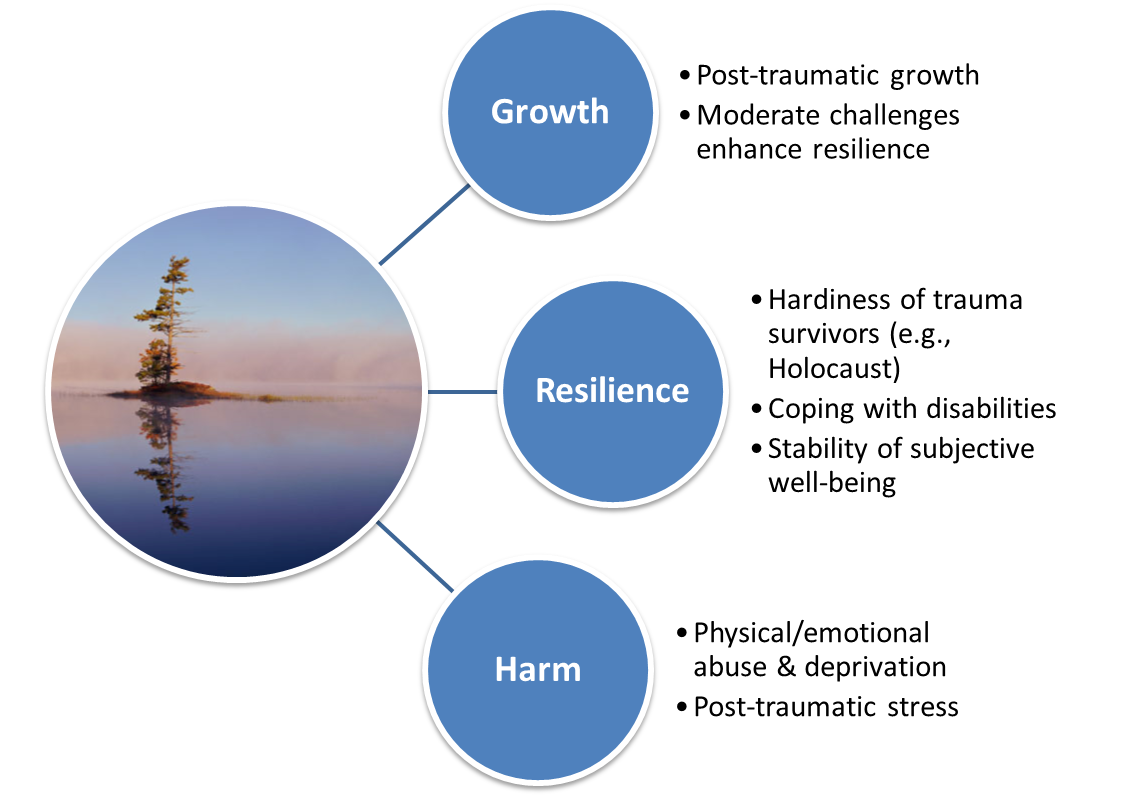 Harm
One trajectory, albeit not as prevalent as the others, entails enduring negative consequences following adversity or trauma (harm). Indeed, some people experience a very "long trail" of emotional and physical scarring and negative well-being following school shootings or after family separation by immigration authorities. The absence of a resilient trajectory is also not uncommon for those exposed to repeated sexual abuse/assault, a young child's unexpected death, severe health stressors such as severe disability, spousal loss, or long-term caregiving roles. However, much like my father, most people may only experience a significant short-term decline in stable well-being and appear to bounce back at, or near, their initial levels of psychological and physical health without enduring harm.
Resilience/Recovery
Professor and resilience researcher George Bonanno and colleagues at Columbia University in the U.S., have reported that resilience is a fairly common response following a diverse number of significant negative life events (e.g., 68% after a heart attack, 72% after the onset of chronic pain,74% after cancer diagnosis, and after deployment to military service). Of course, some life events such as divorce or death may be preceded by years of marital difficulties and unhappiness. It certainly is possible in some individuals with higher life satisfaction levels after divorce or spousal loss that the tough times they experienced emotionally were higher before the event making a rebound quite understandable.
However, our own published research has demonstrated that resilience is a powerful trajectory for many experiencing life challenges and can be enhanced with targeted training and coaching programmes. In one study, we demonstrated that an important inflammatory marker in the blood (IL-6) was significantly elevated in people who practiced a form of mindfulness self-hypnosis over a 12-week period compared to a waiting control group. In a second study, we demonstrated that individuals newly diagnosed with an auto-immune disorder (multiple sclerosis) who participated in a 12-week comprehensive programme that focused on stress management, diet, exercise and symptom management reported a significant increase in life satisfaction, hardiness, and less depression compared to those in a waiting list control group whether offered in a classroom or in blended-learning option.
Growth
"What doesn't kill you, makes you stronger" comes from a pithy observation of the 19th century German philosopher Friedrich Nietzsche. Indeed, some people appear to experience positive change because of overcoming life crises and challenges. Psychologists refer to this positive adaption and change as post-traumatic growth and it appears to be the third unique and distinct trajectory that can lead to a richer spirituality, greater appreciation for each day, altered priorities, and even strengthen social ties with others.
In fact, research suggests that those who are most resilient in life experience neither extraordinarily little or extreme adversity that boosts mental toughness and inoculates against future trauma. Not all of us experiencing trauma, loss or life challenges have such a growth trajectory but it certainly is one that is aspirational and can be influenced by daily practices such as giving gratitude, practicing forgiveness, and practicing mindfulness meditation.
Conclusion
So, each of these three trajectories are unique to each of us given our dispositions, personality, and prior life experiences as well as the intensity and duration of what we face in life. As for my father, he found the woman of his dreams in the same orphanage that he was raised and was happily married for 63 years to her before his passing a few years ago. He raised a loving family and worked hard for only one company that first offered him a job for 35 years. Through my father's experience, the saying "Things turn out best for the people who make the best out of the way things turn out" is one that resonates strongly with me and may indeed be a good mantra for all us during these trying times.
Kenneth M. Nowack, Ph.D. is a licensed psychologist and Chief Research Officer of Envisia Learning, Inc. (www.envisialearning.com). Dr. Nowack received his doctorate degree in Counseling Psychology from the University of California, Los Angeles and has published extensively in the areas of 360-degree feedback, assessment, health psychology, and behavioral medicine. Ken serves on Daniel Goleman's Consortium for Research on Emotional Intelligence in Organizations and serves as Editor-in-Chief for the APA journal Consulting Psychology Journal: Practice & Research.