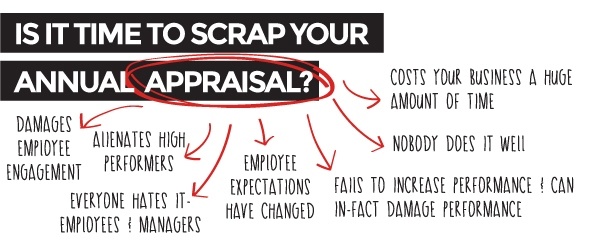 We will be hosting a select focus group on 2nd June, which will bring together like-minded senior HR professionals from a range of similar organisations to explore this question.
During the interactive discussion, Dik Veenman will be joining us to share his research around why performance management conversations are failing. A number of thought provoking case studies and tailored discussions will help you to directly focus on how you can transform the annual appraisal in your organisation. The session has been designed to provide experiential learning, rather than generic presentations!
Food for thought ahead of the day. . .
"If performance review was a drug, it wouldn't be approved by the federal food and drug administration because it's so ineffective and it's got such vile side effects."

(Robert Sutton – Stanford)
It does not need to be this way. Recently, leaders at Adobe scrapped their annual performance reviews. Managers are now expected to have regular 'check ins' – these conversations have no prescribed format or frequency and managers do not complete any forms to document what happened – they simply just talk!
Adobe was spurred into action because the annual performance review system was 'such a soulless and soul crushing exercise'. Internal surveys at the company revealed that employees felt less inspired and motivated afterwards and staff turnover increased.'
In addition Adobe calculated that the annual review required 80,000 hours from the company's 2,000 managers – the equivalent of 40 full time employees per year.
If you would like to find out more, please contact Anthony Walker on 01954 710780