For many of us, the coronavirus pandemic might have been the biggest disruption of our working lives, and that disruption looks set to continue for the foreseeable future. Most of us are already starting to look back and think about the lessons learnt over the past few months, as well as trying to prepare, even in a limited capacity, for the challenges still ahead. CEO's are now having to think about their employee's health and safety in a whole new way, engaging their people when all around is uncertain, maintaining productivity and working with increasing economic and financial uncertainty as well as embracing the prioritisation of diversity and inclusion – just some of the new issues to tackle in addition to the 'day job.'
In our latest webinar, we held an informal conversation with someone for whom this level of disruption is nothing new. Throughout Dennis Murphy's 27 year career within the Five Eyes intelligence community, he has managed national level counter terrorism, organised crime and counter intelligence programs, and led national level cyber operations in support of international military operations in Afghanistan. He has extensive executive experience and leadership roles in developing national and international partnerships, creating operational strategies and navigating complex public and private sector threats and risks. As such, Dennis possesses a rare and unique understanding of disruption and threat, and the required leadership responses, at a strategic level.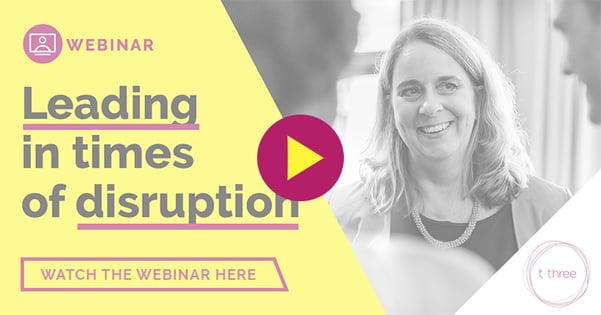 In this conversation t-three Client Director Ruth Bourne interviewed Dennis about his fascinating career, sharing real-world examples of leading through disruption, highlighting some common pitfalls and their remedies. He spoke about the importance of creating a strong, empowered team, and how having the right team, and the right infrastructure around you, can create an environment of success for you as a leader. Finally, he answered some hard-hitting questions from our viewers about how to create certainty for staff in an environment that is constantly changing, and managing your emotional state as a leader.